2021 International Webinar: Co-Shaping our Sustainable Future with AI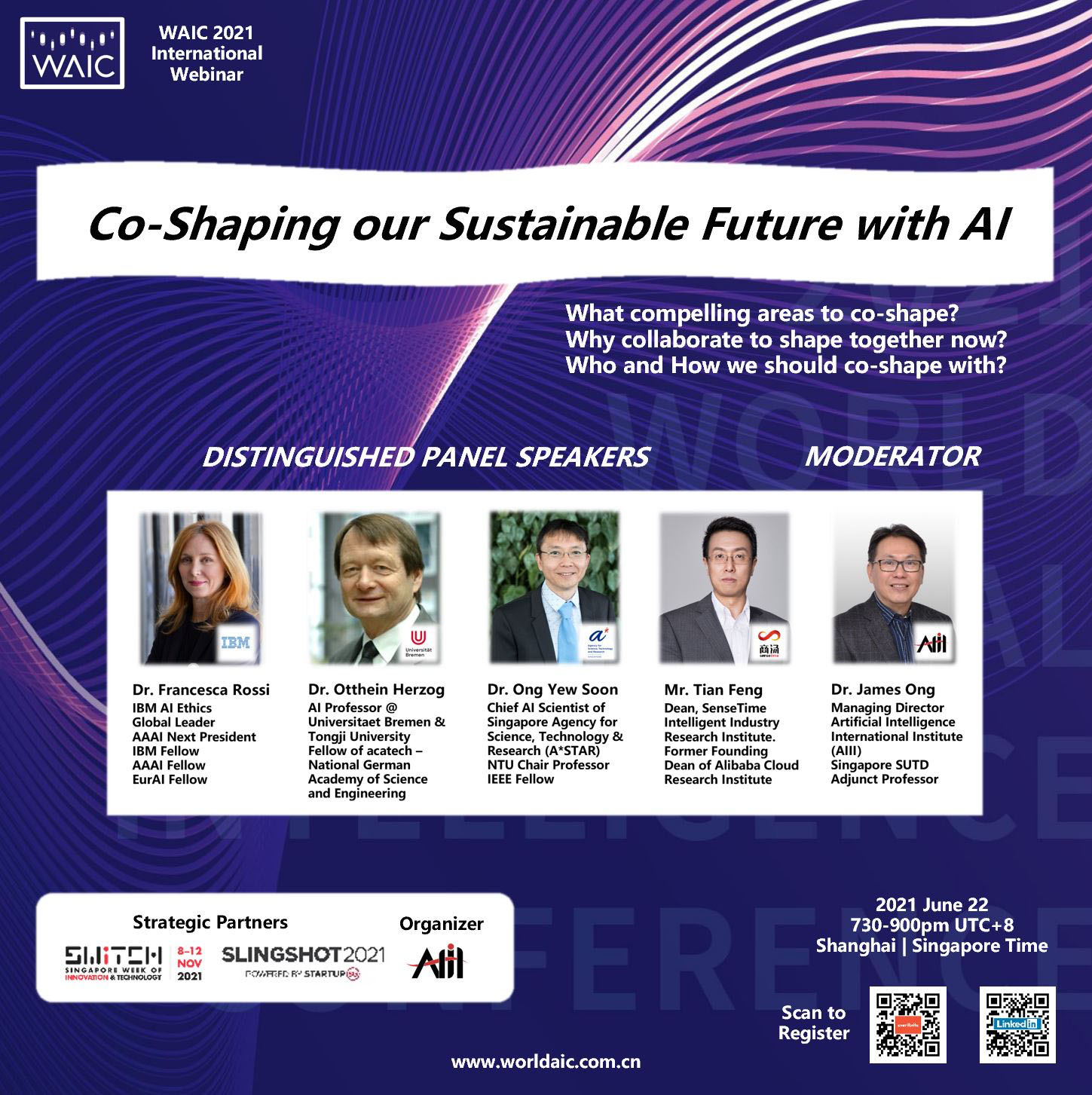 About this event
2021 International Webinar is our pre-conference online event held on June 22, 2021, as a warm-up to WAIC 2021 in July, focusing on global outreach to the international communities. The purpose is to bring together global AI thought leaders worldwide to initiate an open dialogue on identifying some of the relevant and compelling areas of AI that will shape our future. This could include AI research, technology, application,ethics, governance, risk management, and society and humanity.
World Artificial Intelligence Conference (WAIC) is the most spectacular and biggest AI conference in the world that has been hosted in Shanghai annually for 3 consecutive years since 2018.
WAIC 2021 will again be held from July 7-10, 2021. It will be a four-day event that features forums, exhibitions, competitions, and signing ceremonies with exciting and impactful speeches by AI thought leaders and Turing award winners.
The specially curated panel at the international webinar is formed by:
Dr. Francesca Rossi
IBM AI Ethics
Global Leader
AAAI Next President
IBM Fellow
AAAI Fellow
EurAI Fellow
Dr. Otthein Herzog
AI Professor @
Universitaet Bremen &
Tongji University
Fellow of acatech – National German Academy of Science and Engineering
Dr. Ong Yew Soon
Chief AI Scientist of Singapore Agency for Science, Technology & Research (A*STAR)
NTU Chair Professor
IEEE Fellow
Mr. Tian Feng
Dean, SenseTime Intelligent Industry Research Institute.
Former Founding Dean of Alibaba Cloud Research Institute
Moderated by:
Dr. James Ong
Managing Director
Artificial Intelligence International Institute (AIII)
Singapore SUTD Adjunct Professor
Click on the "Attend Event" button to sign up!
Join our group https://www.linkedin.com/groups/9055281/ for connecting with like-minded individuals in an exclusive group.